What is Package Foundry
Package Foundry is a foundry service specializing in small volume manufacturing of FOWLP (Fan-Out Wafer Level Package) and WLCSP (Wafer Level Chip Size Package).
We fabricate Cu rewiring packages utilizing semiconductor front-end process and plating technology.
In addition to silicon, we also have experience in packaging compound semiconductors such as SiC and GaN.
Vision of PMT Package Foundry
PMT Package Foundry is a package contract manufacturer specializing in FOWLP prototyping, established in 2019 as a new business in PMT. We are striving to develop technologies to help solve our customers' problems in a short period.

We support customers' PoC (Proof of Concept) for chip development and product development, and in 2022, we are expanding to not only prototype development of packages but also high-mix low-volume production in cooperation with Maxell, Ltd. in Fukuoka Prefecture.
Delivery time and Price
There is no need to supply wafers in units as we can make solder bump on IC chips that diced into small pieces.
We may offer competitive prices and shorter delivery times compared to overseas OSATs and semiconductor laboratories.
Design and Verification
PoC of the designed IC chips by package with rewiring (RDL).
Functional verification of heterogeneous packages (SiP) that combine multiple IC chips with different functions.
Heat dissipation
No package substrate or bumps are required, enabling a low profile package. The lower profile can be expected to reduce thermal resistance and improve heat dissipation.
In addition, it should make a reduction in electrical resistance of wiring and improvement in signal noise can be expected.
Process integration
We help our customers solve their problems by integrating wafer front-end process, packaging process, and plating process.
Package Structure Comparison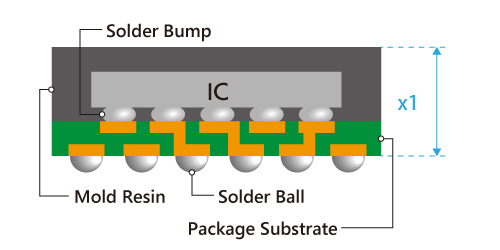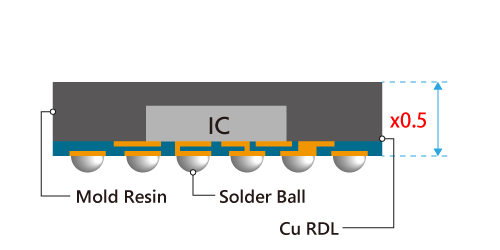 Package substrate, wire bonding, or solder bumps are not required for FOWLP structure, and it allows reducing size and profile in comparison with FCBGA structure.
Forming multi RDL on Al pad on IC chip by using both lithography and plating technology allows more flexible RDL design than conventional package.
Furthermore, heat consumption can be improved because thickness of package will be thinner to almost 100µm.
Innovative Technology
PMT Package foundry has 1 inch WLP production line specialized in prototype. PoC of design can be done by a few packages in short period.
Evaluation of middle-volume and low-volume before production uses 6 inch line of same base line with 1 inch, so resetting condition is not required.
We develop various types of package as shown in following table, and we aim to continuously develop innovative technology upon the customers' need.
| | |
| --- | --- |
| Production Line | 1 or 6 inch production line (Prototype, High-mix Low-volume Production, Multi-layer RDL) |
| Package Type | FOWLP, WLCSP, SiP (System-in-Package), DSEP (Double-sided Electrode Package), AiP (Antenna-in-Package), Ultra-thin Package |
| Bump | Cu Pillar Bump, Cu Pad, Solder Bump |
Fan-Out Wafer Level Package (FOWLP)
RDL interposer is connected to the input/output pads of the IC chip, and it allows connecting to any position on the board.
Heat dissipation can be expected to be improved due to miniaturization or lower profile.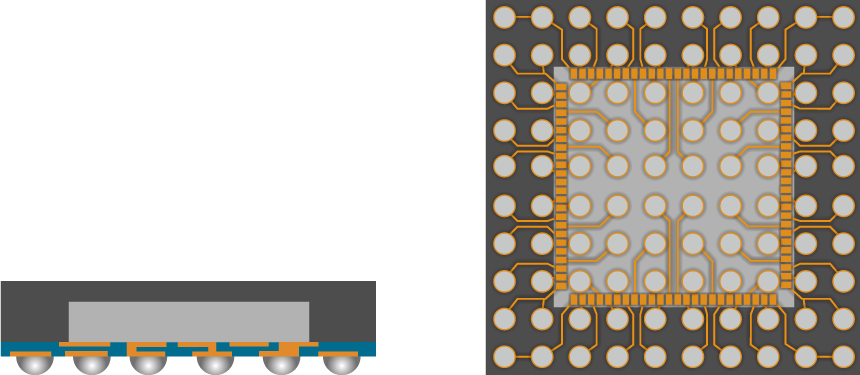 Wafer Level Chip Scale Package (WLCSP)
Package size of WLCSP is same as mounted semiconductor chip.
Solder bumps can be formed on IC chips that is diced into small pieces by using shuttle service.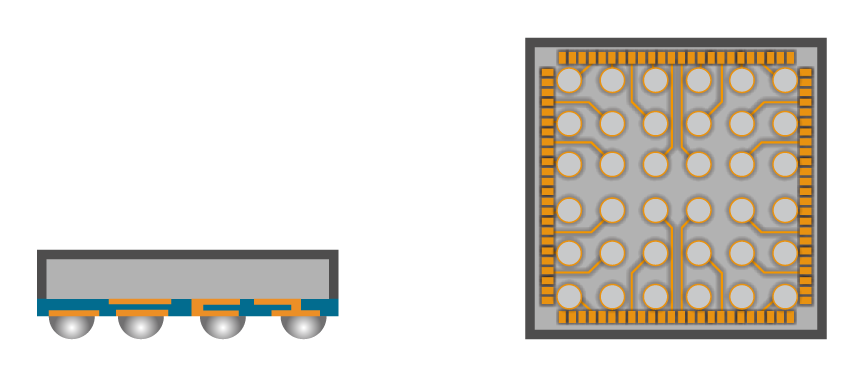 System in Package (SiP)
Systematization of multiple ICs with different functions in a single package make it high functionality and space saving in the package.
Power consumption is expected to reduced because mounting area becomes smaller.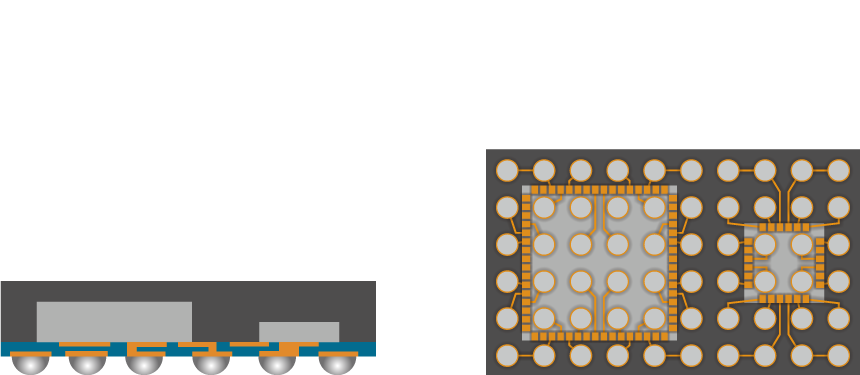 Double-sided Electrode Package (DSEP)
The I/O signals of the IC chip can be connected from the front side and back side of the package.
High functionality can be achieved by stacking packages.
*Package on Package (Stacking IC Package) is not our business.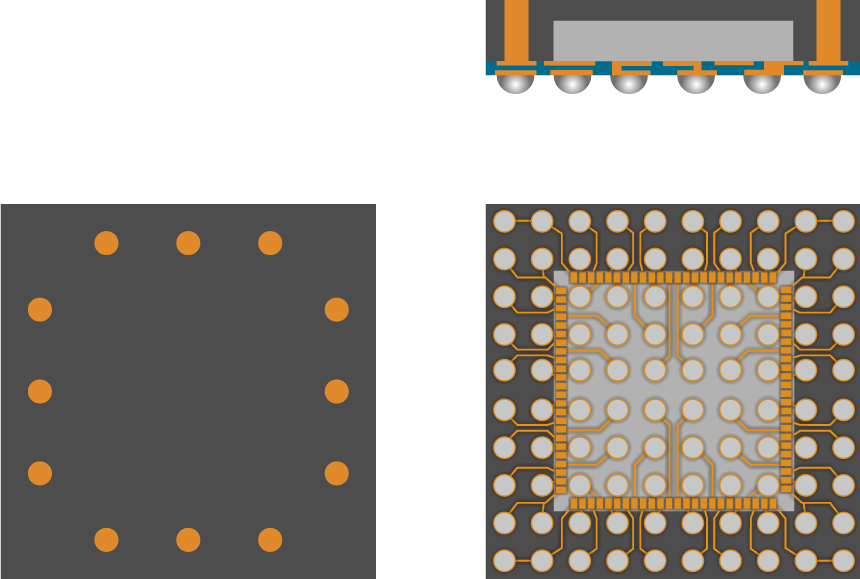 Ultra-thin Package
The package is made thinner to 100µm to facilitate heat dissipation and prevent heat retention inside the package.
This package is also suitable for wearable modules that ultra-thin shape is required, such as medical devices.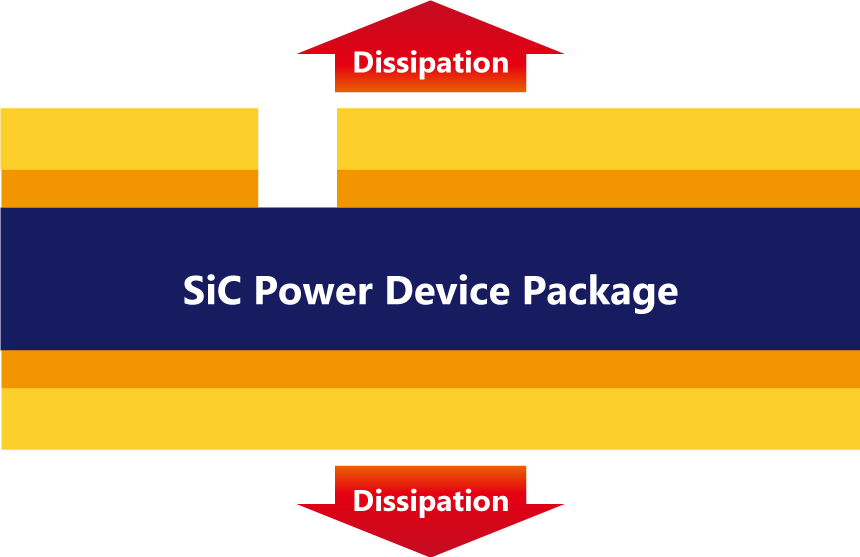 Antenna in Package (AiP)
Utilize multi-layer RDLs to integrate the antenna structure into the package.
Conventionally, antenna element used to be connected separately.
Antenna structure can be built in package by utilizing multi layer RDL, and this technology allows miniaturization of RF (high-frequency) device package.
Antenna shapes are available upon customer's requirement.
This technology can be applied to RF device more than several hundred GHz.
Cu Pillar Bump
In addition to Cu pad or solder bump, Cu pillar bump of dia. 40µm x (t=)40µm can be formed.
In the midst of the growing need toward increasing number of terminals due to high-integration of package, this can meet the request of narrow pad pitch.

Design Rules
This is package structure incorporating semiconductor chip or sensor.
KGD (Known Good Die) can be provided without solder bump. Both solder ball and Cu pad are available for external terminal.
Fan-Out Mold Resin Substrate
Size : Dia.22mm or 150mm(*)
Dielectric Layer (DL)
Thickness : 3-9µm
Cu Redistribution Layer (RDL)
Layer Thickness : 3-15µm
Layer Number : Max. 4 Layers
L/S
Min. 20µm/20µm
UBM
Material : Ni/Au
Solder Ball
Ball Dia. : 250-500µm
Pitch : >=400µm
(*)Dia. 150mm will be released in 2023/4Q.

FOWLP Process Flow
Our baseline process is face-down chip-first.
When you need face-up chip-first, RDL-first or other specific process options, please feel free to contact us.
Reconstruction Wafer Process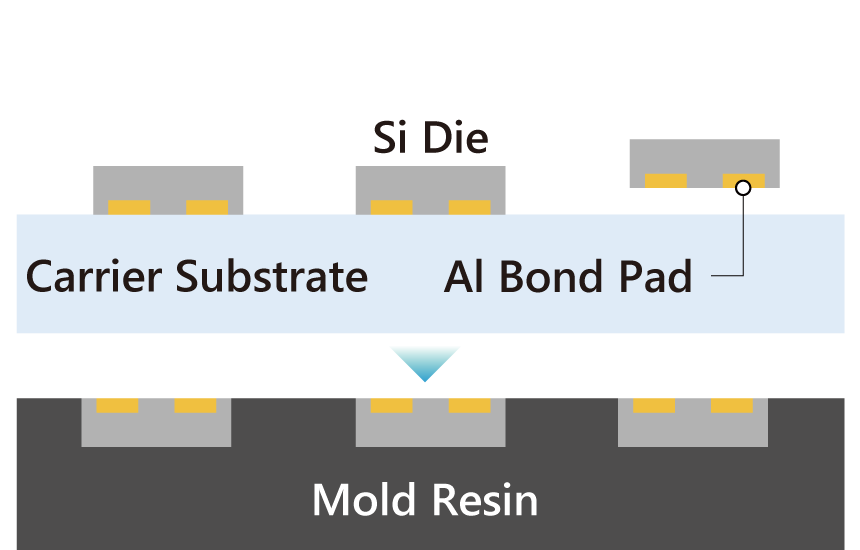 Rearranging Si die on carrier substrate and curing with resin.
After that, peeling off carrier substrate.
Redistribution Process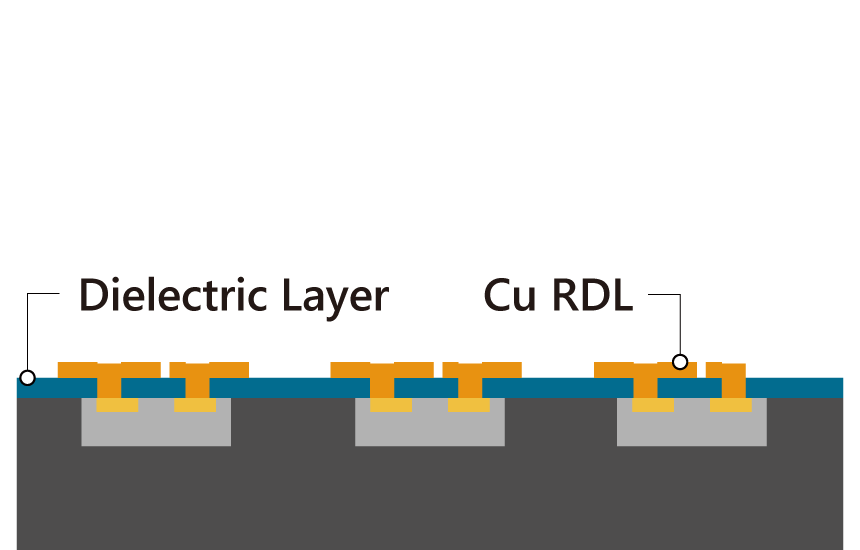 Constructing redistribution layer (RDL) by patterning dielectric layer (DL) and Cu RDL.
Solder-ball Mounting Process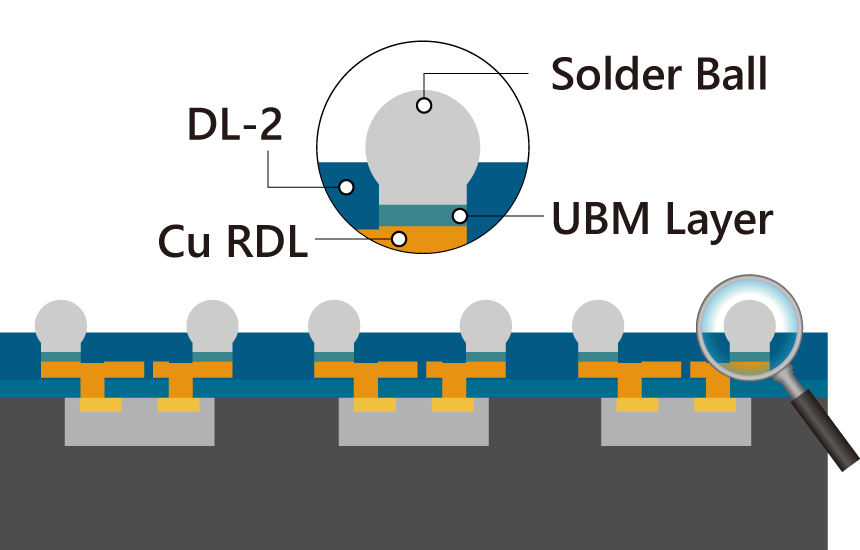 Constructing upper dielectric layer(DL-2) and UBM Layer, and mounting solder ball on it.
Dicing Process
Deliver singulated package by dicing.
Business Flow
Customers provide us with requirement specifications, RDL CAD, and IC chips.
We design the process according to the design rule.
Packages are fabricated and deliver them to customers.
Customer

Provides...
Specifications of Package
CAD data of redistribution
IC chip
Foundry

Produce with...
PDK
Resin Molding
Redistribution
Customer

Becomes Possible...
Electric Evaluation
Built into Module
Reliability Evaluation
Contact and Download
Contact Form
Please wait for a few seconds until the form is displayed.
When the form is not displayed even after a while, I'm sorry but please kindly contact here.